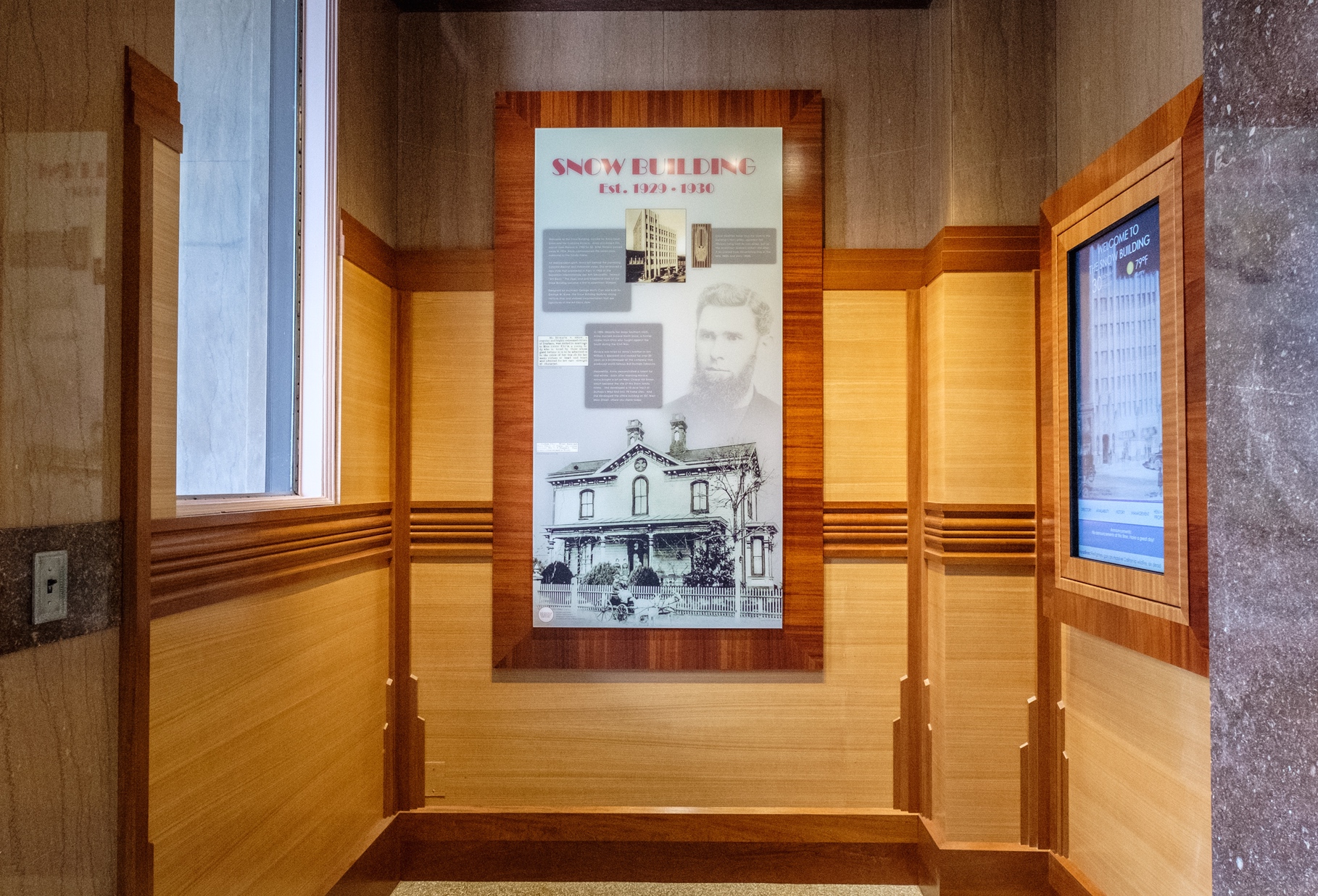 Snow Building, Durham
Client: Trademark Properties
Transformed from a former news and tobacco stand within the historic Durham, N.C. Snow Building, a dilapidated, abandoned space was turned into a sophisticated alcove with a digital display that captures the history of the building and invites visitors to linger and learn about Durham history.
Designer Kelly Villanueva and Eidolon enjoyed this collaboration, drawing inspiration not only from this stately deco-inspired façade, but also the fact the original building was commissioned by Mrs. Anna Exum Snow shortly after women in North Carolina were given the right to vote. The iconic Snow Building has been a witness to Durham's evolution, and we're thrilled to b a part of its history.
Honduran Mahogany and quartered Anigre solids and veneers create a warm environment. The deep mouldings reflect the exterior façade mouldings, as Eidolon designed and had made half-pattern knives replicating the linen fold pattern on the exterior.
The digital display was a particular challenge, as it arrived in typical stainless steel, but the designer specified this be made integral to the space. We veneered the exterior stainless steel frame in ribbon-strip Mahogany veneer, and the interior frame in ribbon-stripe Anigre to produce the piece you see here. We applied veneers not only on the exterior of the frame, but mitered corners and curved into the inside of the frame on a radius less than ¼".
Why Choose Eidolon?
We believe in the work produced by our hands - as informed by decades of experience and continued discovery through practice. The integrity of structure, often unseen, is as essential to us as the beauty of each finished piece. We thrive on unique challenges and attention to quality is our measure, and our tradition.
Eidolon Designs has been creating work in our downtown Raleigh studio since 1984. We hand-build fine furniture, historic-to-modern millwork, and sculpture - for architects, designers, and individuals. While each design collaboration is unique, our goal is always the same: to integrate design, function, and artistry.
Find out how we can work together by giving us a call at 919-833-5117.