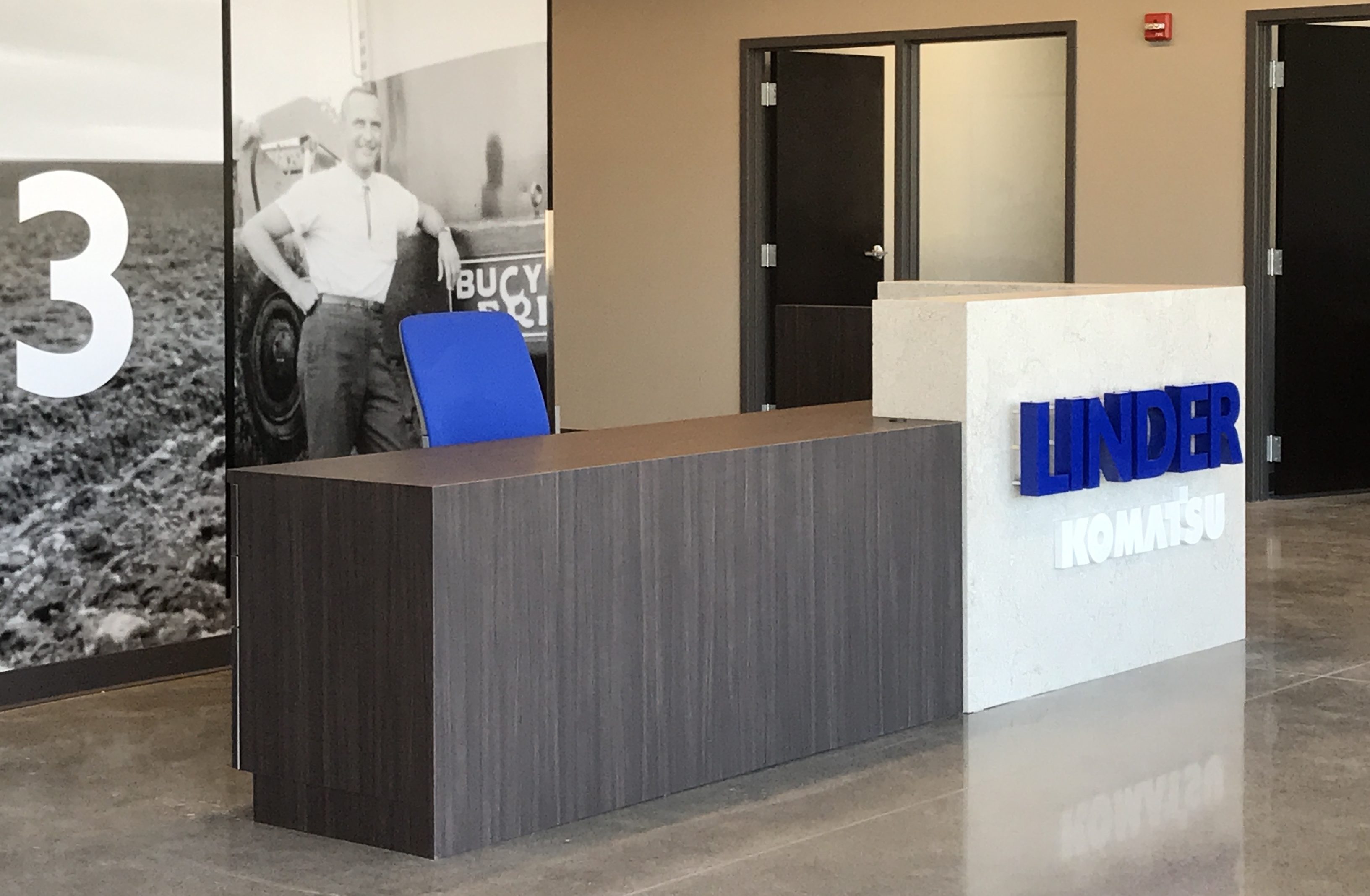 Linder Reception
Client: Linder Machinery
Designed by Linder in-house architect Ray Williams, this reception area has both fixed pieces and modular display units.  Varied materials are combined thoughtfully in order to present as a cohesive display of individual units placed throughout a large reception area.  Gray Lagoon Concrete Finish Quartz, Espresso Pear laminate, Brushed Aluminum laminate, welded hot rolled steel, 3-form Chroma in Cobalt Blue, 1/4″ clear tempered glass, 1/4″ diamond plate aluminum, and LED dimmable lighting.  Eidolon pays attention to the smallest details, such as providing suction handles for removal of glass displays when a reorganization of display pieces is required.  
Eidolon specifies the best subcontractors in the area when fabrication collaboration is required.  We especially thank Arrowhead Studio for their excellent welding, Atlantic Countertops for their construction of quartz reception shroud, and Carolina Glass for fabrication of two glass display coverings.  All met the high standards that contribute to an excellent presentation. 
Why Choose Eidolon?
We believe in the work produced by our hands - as informed by decades of experience and continued discovery through practice. The integrity of structure, often unseen, is as essential to us as the beauty of each finished piece. We thrive on unique challenges and attention to quality is our measure, and our tradition.
Eidolon Designs has been creating work in our downtown Raleigh studio since 1984. We hand-build fine furniture, historic-to-modern millwork, and sculpture - for architects, designers, and individuals. While each design collaboration is unique, our goal is always the same: to integrate design, function, and artistry.
Find out how we can work together by giving us a call at 919-833-5117.