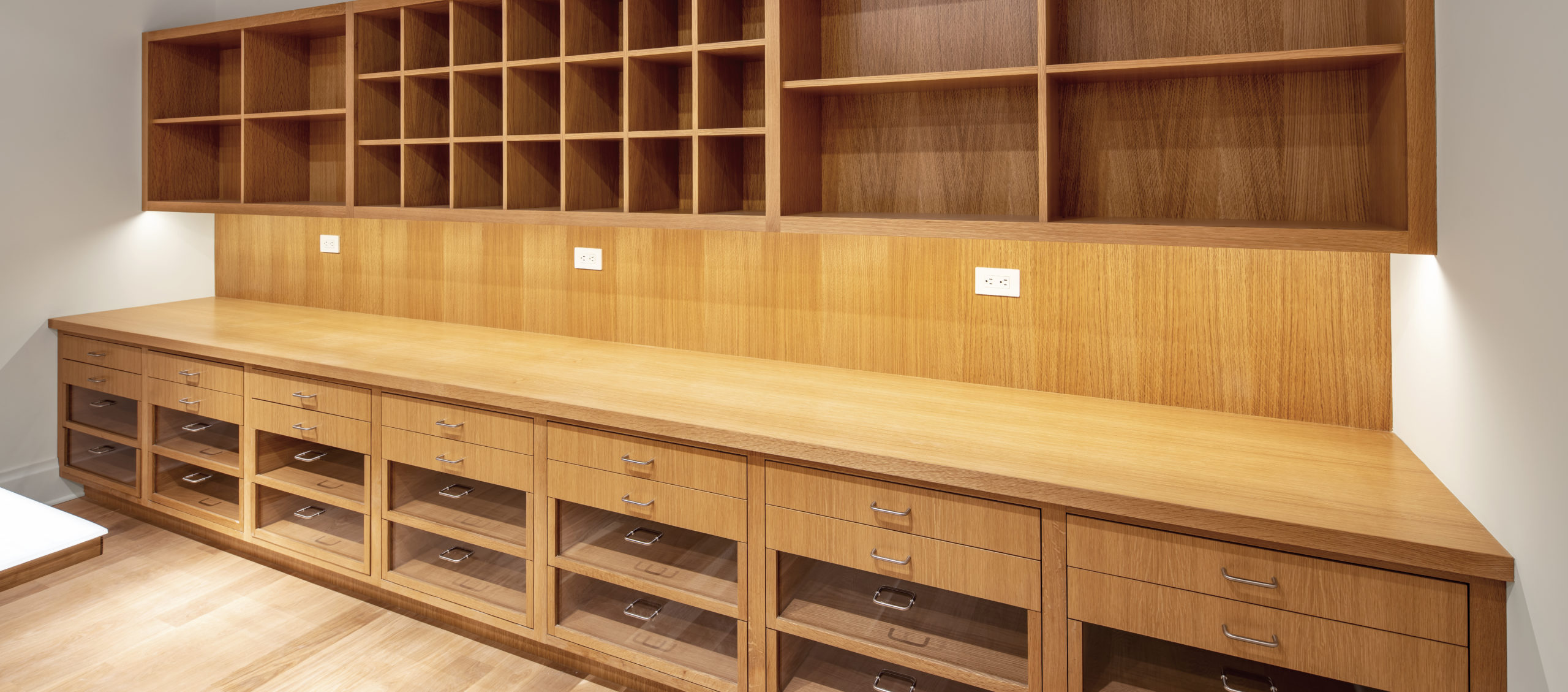 Craft + Laundry
Raleigh
This craft room piece is all of white oak solids and veneers and set on a 15'2″ wall, fabricated to appear as full-length, wall-to-wall.  Perimeter edges of the upper unit and the front edge of the base cabinet top are each banded in oak solids.  Vertical grain runs throughout the kick, drawer fronts, back panels and backs of the upper wall unit. The base cabinet features 28 drawers, 14 of which have 3/4″ plexiglass fronts with the top edges polished and are integral to the drawer box structure.  The island has been designed solely for textile arts. Deep shelves on the far end are specifically intended for fabric bolts. The upper working surface is entirely self-healing cutting surface while the lower surface is standard table height. Both the Island and laundry room feature white oak drawer fronts with integrated knife-edge pull design. The laundry countertop drapes the base cabinet to seamlessly join both natural height sink with a lower hamper table.
Designed by Furnish Design of Raleigh.
Why Choose Eidolon?
We believe in the work produced by our hands - as informed by decades of experience and continued discovery through practice. The integrity of structure, often unseen, is as essential to us as the beauty of each finished piece. We thrive on unique challenges and attention to quality is our measure, and our tradition.
Eidolon Designs has been creating work in our downtown Raleigh studio since 1984. We hand-build fine furniture, historic-to-modern millwork, and sculpture - for architects, designers, and individuals. While each design collaboration is unique, our goal is always the same: to integrate design, function, and artistry.
Find out how we can work together by giving us a call at 919-833-5117.